Zack Whitford, one of Joel Meyerowitz's earliest students on the course, is a successful photographer in his own right and has been in the game for around 8 years. We asked him a few questions about his career, his photography and what he's gained from studying Joel's course.
Hi Zack, can you tell us a little bit about yourself, your personal background and your style of photography?
My name is Zack Whitford and I am a documentary photographer based in Los Angeles. I got serious about photography about eight years ago and have been shooting professionally, full time, for six of those years. Working as a professional photographer has taken me down some unexpected roads. I have found success doing some things that I never expected to be doing, like music photography. My style of photograph, where I'm most comfortable, is working with people in their element. I love to be a fly on the wall.
For several years I was fortunate enough to be able to travel around the world photographing a rock band. But after a while I was yearning to spend more time at home with my family. So I decided to take a break from touring. Nowadays, I do a lot of high-end event work for an image agency in Los Angeles. This has proven to be a massive challenge and one of the greatest learning experiences I have ever had in my short time as a photographer.
All that said, I am at my absolute happiest when I am traveling with my camera and photographing people in different parts of the world, just trying to convey the sense that we're all in this thing together.
How did you get into photography? Was there anything in particular that you remember that made you want to be a photographer?
In 2010, my girlfriend and I visited The Getty Museum in Los Angeles and viewed a war photography exhibit. Part of the exhibit were photos from military emergency rooms in Iraq, shot by James Nachtwey. Those just completely knocked me on my ass. I was in awe of how close he got and how it looked like you were viewing these harrowing scenes through the eyes of one of the trauma surgeons. I just couldn't believe it. Something in those photos hit a switch in me.
I had always been interested in photography but never passionate about it. My mother was a professional photographer, so I grew up around it. I took a class in high school where I learned the basics, how to develop, print, etc. But it wasn't until those Nachtwey photos that I ever thought "I have to try this." I shared this sentiment with my mother and she mentioned that she had a Nikon D90 sitting around that she wasn't using, so she sent it to me along with a 24 & 50mm lens. At the time I was working in an office job in Hollywood. On my breaks I would walk around the streets with my new camera. I remember reading online that you should 'ALWAYS SHOOT IN MANUAL'. So I would walk around with the lens on manual focus, while the camera was probably on full auto. It took me a little while (and a lot of missed, out of focus shots) to realize what they actually meant. One thing that didn't take a while was realizing how much I loved shooting on the street, photographing people, scenes, etc. It wasn't long before I was completely hooked.
Tell us about 2 of your favourite pieces of work.
This is a tough one, I suppose I'll go to two opposite ends of the spectrum but stay within the theme of people.
I shot the first image in the Punakha Zhong (a government building/monastery) in Bhutan. I was part of a tour group at the time but the formulaic nature of the tour was frustrating me. So, I sneaked off and went into a part of the complex that tourists and foreigners were forbidden from entering. I realize this wasn't the right thing to do but something inside of me, or as
Joel Meyerowitz
would say, my "instinct," was telling me to go and look for a shot that everyone else wasn't getting. Luckily, I found this great, long hallway with beautiful window light spilling in. I decided to wait there for someone to come down the hall and, hopefully, allow me to photograph them. I was hoping it would be a Buddhist monk, as there were a lot living in the Zhong.
After only a few minutes, two young monks rounded the corner and were clearly quite surprised to see me there. There was this instant playful sense that they, as well as I, knew I wasn't supposed to be there. One of the boys, probably not wanting to get in trouble, quickly departed, but the other stayed and immediately started posing. He was breaking into various tough guys poses, outstretching his arms, flexing his biceps. Even breaking into a couple of clearly practiced and impressive martial art stances. After about a minute he began signalling to me what I could only interpret as "get ready for what I'm about to do". He then, in one motion, leapt up, outstretched his arms and legs and completely braced himself laterally in between the two walls of the hallway. I share it with you now because it is to this day, my favourite photo that I have taken.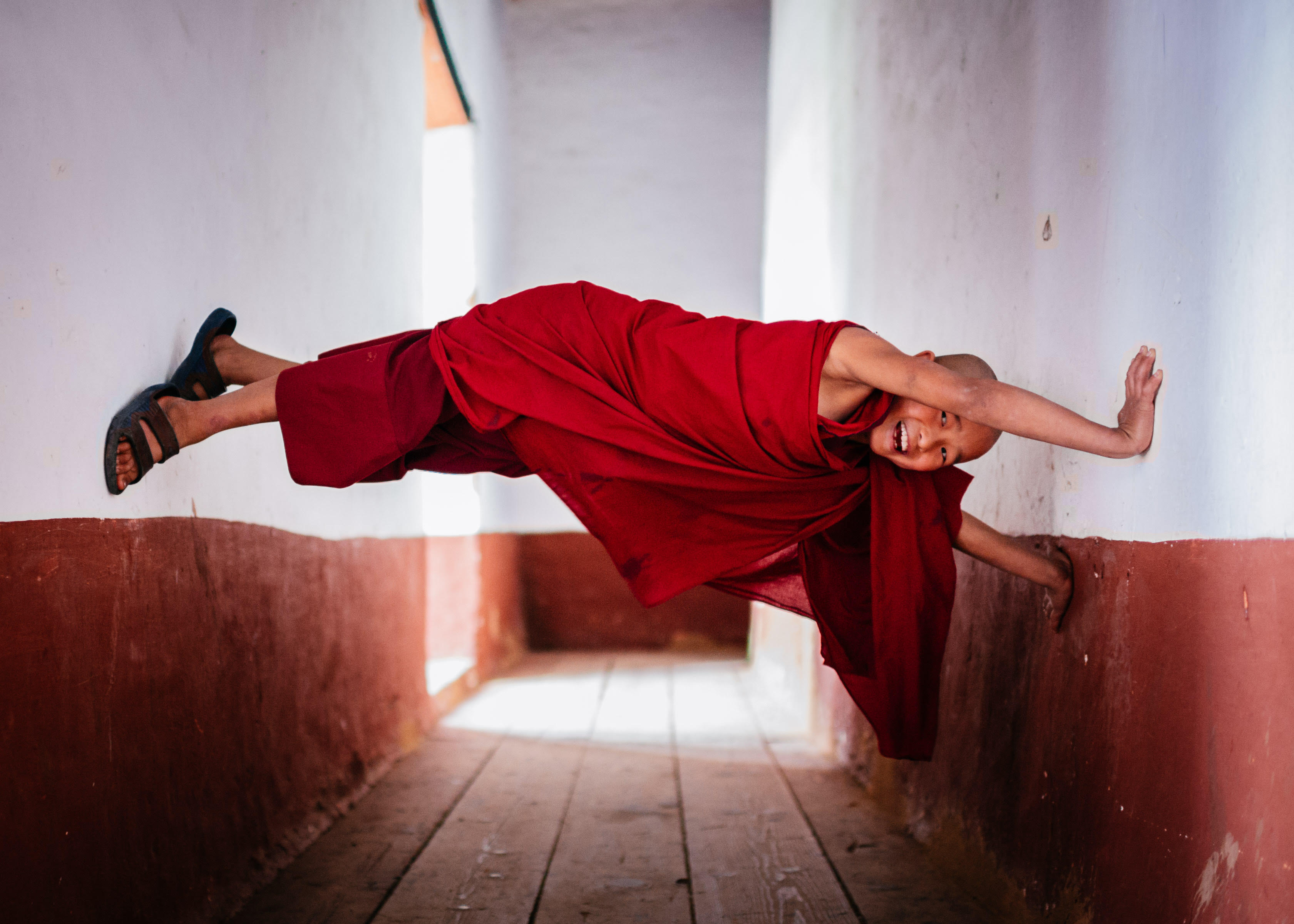 Such a nice shot. And the second?
The other shot was from when I was working; shooting a tour for the rock band Aerosmith. We were at The Forum in Inglewood, CA and while my job normally consisted of general coverage of the band, photographing a meet & greet with fans and then the concert itself, tonight was a bit different as the owners of the venue wanted me to get some kind of candid shots that they would potentially hang up in the halls of the backstage area, which are adorned with many photographs taken over the years, all shot within The Forum.
Anyway, I was wandering around backstage, very much feeling the pressure of the assignment as the band is pretty laid back, especially in the hours leading up to a concert (this was no longer the days of sex, drugs & rock n' roll). I decided to go and take a peek in Joe Perry's (the band's lead guitarist) dressing room only to find Dave Grohl of Nirvana & The Foo Fighters hanging out in there with him. I fired off a few frames without using my flash in an effort to be discrete. Nothing special, just Joe jamming on his guitar and Dave hanging out. Suddenly, from behind where I was standing, Steven Tyler (Aerosmith's flamboyant lead singer) bursts into the room. For a reason I still don't know to this day, just plops three apples into Dave Grohl's arms. Dave just starts juggling them, quite well, I might add. I decided now was the time for flash so I switched on my speedlite and took a couple of shots. Fortunately, I got the shot and about 
24 hours later
, after submitting the photo to the owners of The Forum, they told me they wanted to buy the print to hang in their halls.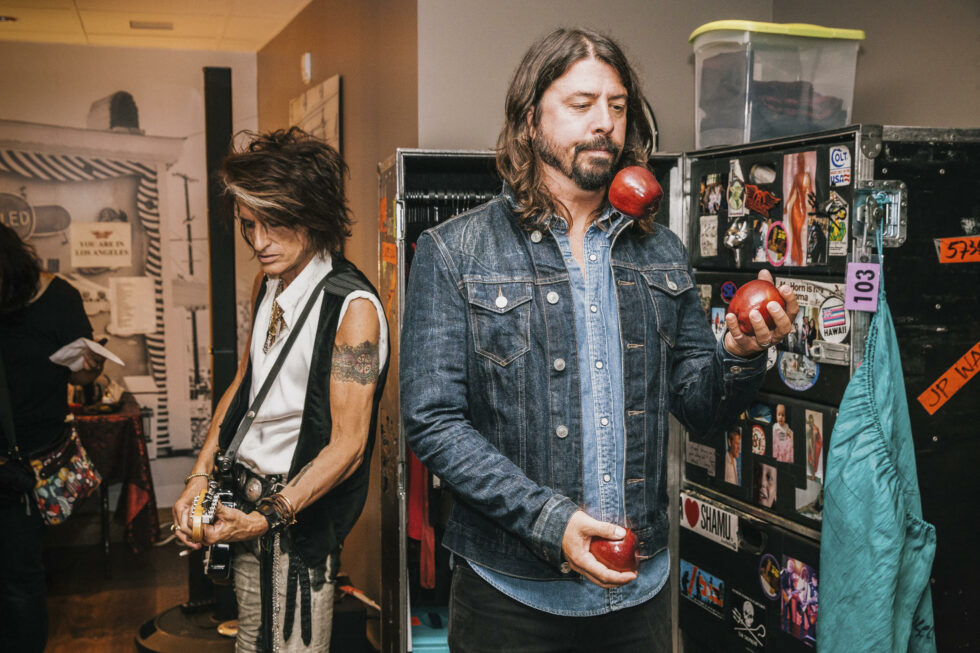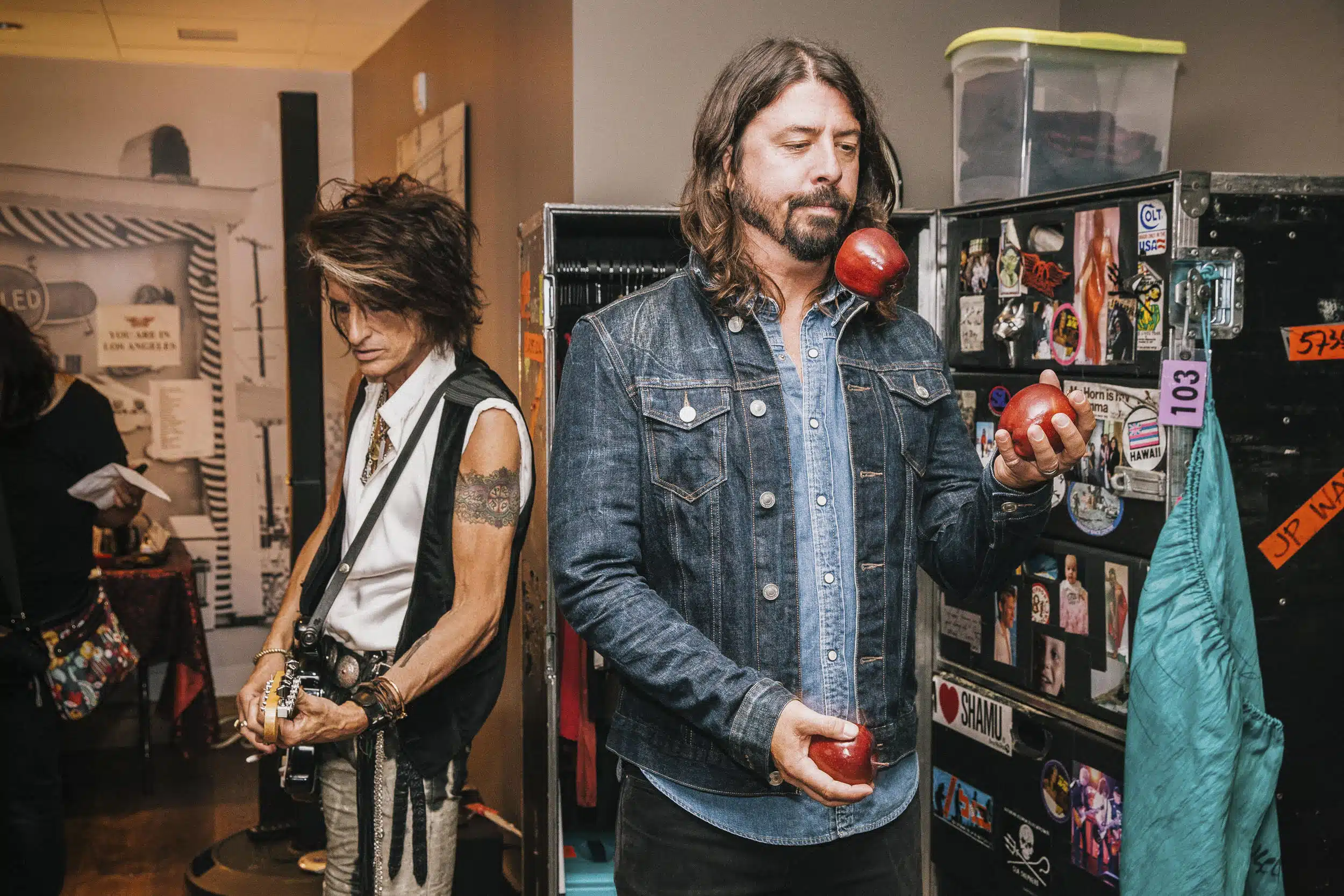 You've got some great stories! Thanks for sharing. What brought you to Masters of Photography and why did you choose to study Joel's course?
I chose to study
Joel's course
because he's a living legend, and as a fellow street photographer, I believe his work transcends the art form into the sublime. There is something very dream like about his photos. Plus, his personality and unbridled enthusiasm are infectious. I was also interested in his course because I am learning to shoot with a rangefinder and he is one of the authorities on shooting with that type of camera. Not that you need one to take successful candid shots.
What is the most important thing you think you've learned from the course?
The most important thing I have learned from the course is to trust my instincts. That if I see a shot, I should not hesitate and just go for it! Joel is very adamant about this and since viewing the course, it has already helped me greatly! Also, just hearing Joel wax poetic about photography will have you chomping at the bit to go out and shoot. I enjoyed watching the course lessons at night before bed. When I woke up the next day I was teeming with excitement to go out and try what I had learned. It's definitely the best online photography course I have experienced to date and I am 
beyond
 excited for
Steve McCurry's upcoming course
.
Thanks Zack, it was great to talk to you!
You can see more of Zack's work on instagram on on his website. To see the work of other students, check out the Masters of Photography Photostream 
Get 6 amazing free lessons from the Masters
Each complete lesson is packed full of tips and tricks from some of the greatest photographers in the world.
If you'd like to learn more about all our Masters Of Photography, then why not join up to our Free Online Photography Courses, where you can trial some content for FREE before you Buy A Photography Course. Alternatively, you can join our FREE Photography Forum too.