Dissonance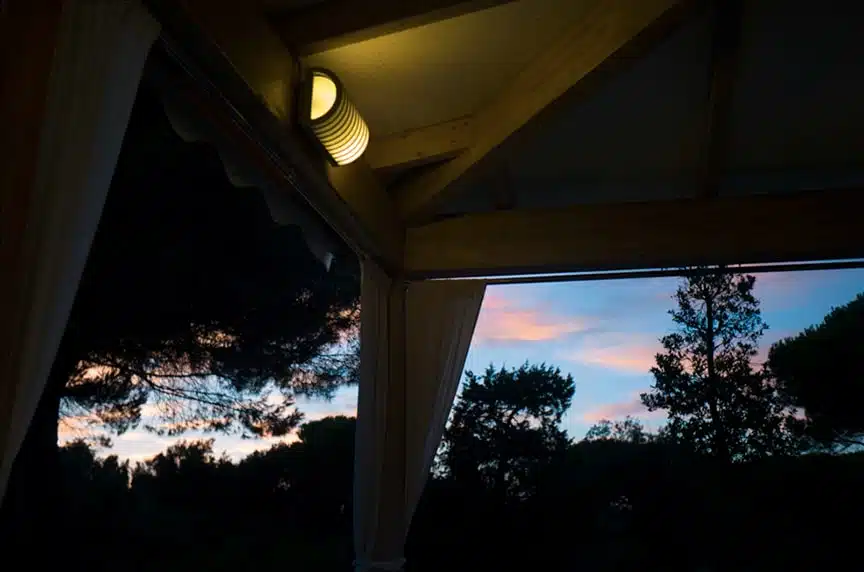 There are 2 kinds of light; natural and man made, and often we find ourselves in the presence of both but fail to consider the photographic possibilities that their dissonance presents. I've been looking at this phenomenon for 40 years now, ever since I started using the large format camera in 1976, and I am always pleased to take a few moments to look hard and see the ways in which the color temperatures of the light play against each other. There always seems to be a photograph out there.
Smoke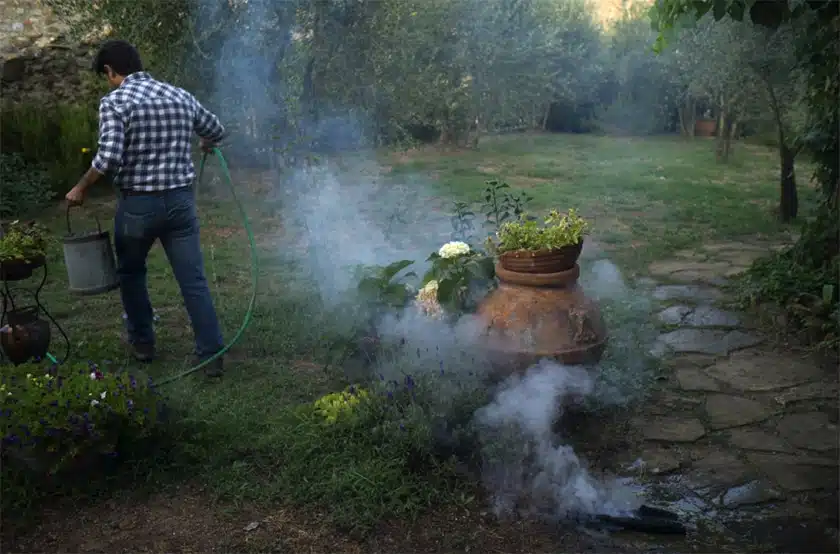 Smoke, following the slightest draft of air, trailed behind the guy with the hose. All I could smell was the Tuscan roasting going on; wild boar, pheasant, pigeons, and sausages, but that was only my olfactory sense, while my optical side, as always, was watching for something that could be made from nothing.
Paying Attention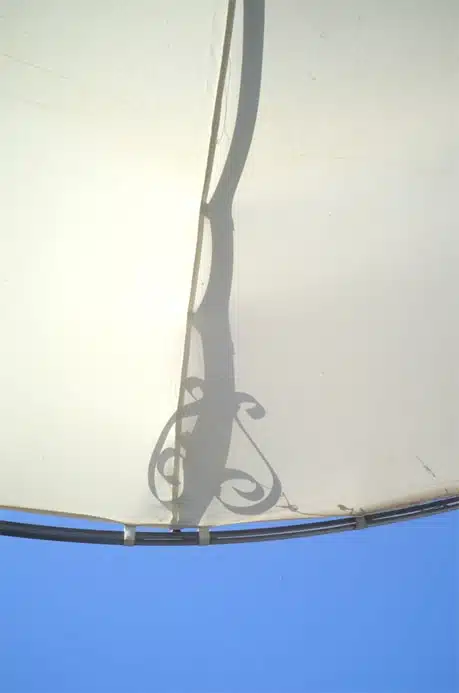 A blistering hot summer day at the Tuscan shore. After a swim and a short nap I opened my eyes and saw the light coming through the umbrella, and then the pure blue of the sky. My first impression was of being under a sundial and that it was around noon, and sure enough, it was.
I love the amazing amount of information, even in such a simple image as this. The difference in tone and color between one side of the white nylon and the other, the subtle density difference between one end of the shadow and the other, the way the sliver of blue hovers above the black frame of the umbrella and then continues beyond. It is this kind of 'describing' things to myself that enlivens my attention and keeps me interested in the things that might easily go unnoticed. It's this 'paying attention' that makes photography such a vital form for me.
Table Top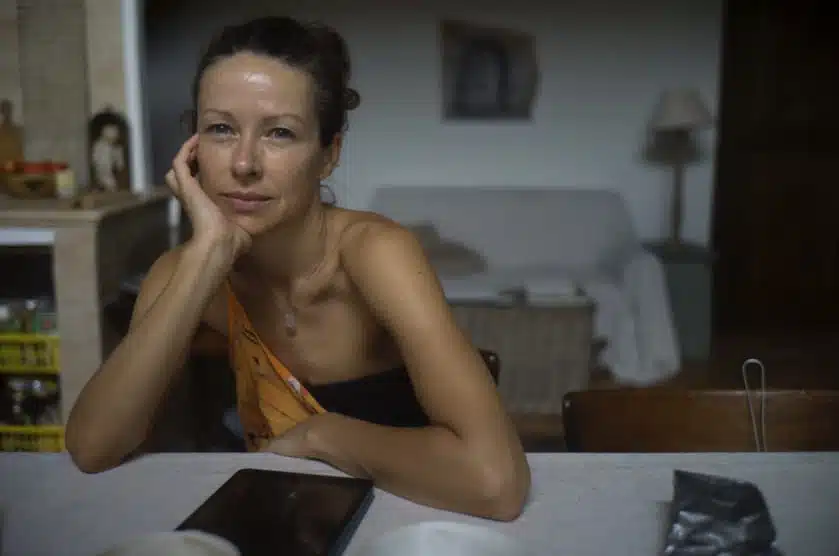 'Table Top' used to be what still life work was called back in the 70's and 80's when I did some advertising photography. I never shot that kind of stuff because I was a 'location guy' and couldn't find any interest in being inside a studio. But sometimes, when sitting across a table from someone; a friend, family member, even a total stranger, whoever it may be, there is a moment when some connection just begs for a photograph.
Her steady look and directness, with no projection of the kind of beauty she is capable of and can often express, was what I responded to as we sat around the breakfast table. These simple, intimate moments are rich with possibilities.
Ordinary Places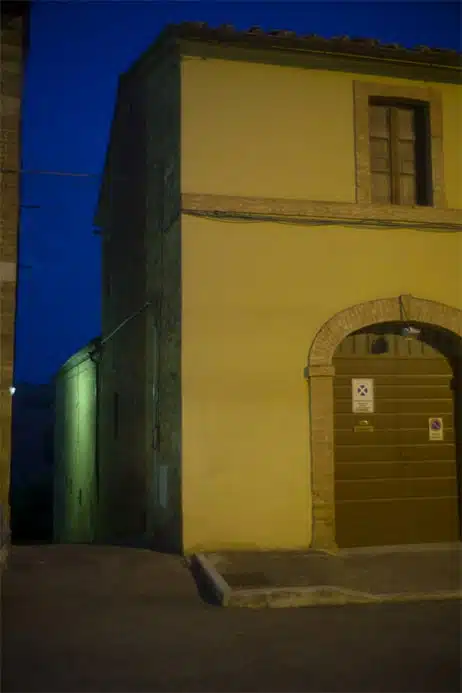 Night time, and the variety of color temperatures of street lighting, often make ordinary places into theatrical spaces. This back street in a tiny town took on a richness of color that made me go back after I walked past it, and take a real look. And we are all fortunate today in what the digital capacities of our cameras allow us to see and to render. But it's the going back that counts.
Ugly/Beautiful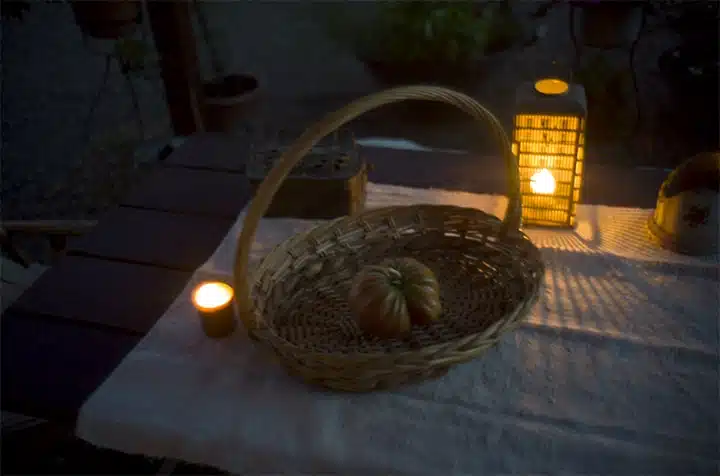 We came back after a late-in-the-day walk to find this rugged tomato, just picked from the garden, deposited on our table by our farmer landlord, Silvia, who often brings us whatever is on the vine; squash blossoms, string beans, zucchini, eggplant, new potatoes, onions, figs, grapes, plums, and so on, but this creature sat there looking ugly/beautiful, and that always gets to me. Ugly/beautiful is one of those qualities that the world throws our way in unexpected moments, and when I see it I am reminded of how great the variety of what we call beauty really is.
It suggests a reconsideration of what we think we know about beauty, and our own values. It's not that this tomato is any kind of paragon of beauty, but simply that it made me pause for just a moment to look at it, and once I paused I saw the light making lines like the tomato's lines, and then I felt the sweet sentiment of Silvia's generosity, add to that the lateness of the hour and its color, and what came over me was the plain song of the evening and the goodness of life.
All from stopping to look at an imperfect tomato.
If you feel inspired by Joel Meyerowitz's posts, check out his online photography course.
Take your first step to better photography